Milford choir program: From the classroom to the stage
Singers' dedication leads to success at competitions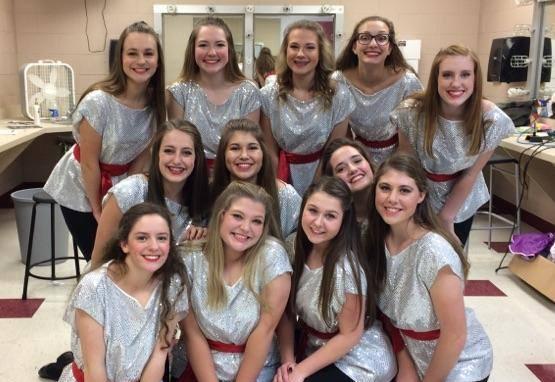 Bre Marsh, Assistant Features Editor
November 22, 2016
When it comes to classes like math and science, students attend an hour a day and take home a few homework problems. For students in a choir class, such as Concert Choir, Center Stage, Men's Ensemble, or Choraleers, that hour in school gets followed by three or more hours after school to rehearse for the next performance.
"You're sort of in a curricular, extra-curricular class,¨ Choir teacher Maryann Lambrecht explained. This means that members in choir do much more work than what they put in during their hour in the classroom.
However, many involved in the choir program wouldn't call it work at all. It's a place where relationships are built with people who have the same interests as them.
"It's a time where I can come to class and not have to worry about math or science and can be with friends who are like family," said Junior Paige Davidson, a member of Milford´s Choraleers.
Center Stage is the combined advanced choir at Milford of both boys and girls. These members range from sophomores to seniors with a large junior class this year. 
Six Members from Center Stage auditioned to compete in the Districts Honors Choir. To audition, they video recorded themselves singing a song that was picked for them and sent it in to the judges. All six members that auditioned were accepted. 
These members include Julia Schwendenmann (senior), Hailey Eriksen (Junior), AnnaMarie Storbeck-Pelc (junior), Olivia Hubbell (Sophomore), Cole Harvey (Junior), and Tyler Capra (junior).
Two years ago, Center Stage went to the Michigan Music Conference 10th anniversary and submitted auditions to be on show. They were invited to perform for a college concert and they were the only show choir there which changed the mood of the room, switching it up from classical performers to our Center Stage performers.
Center Stage isn't the only group that has been highly successful.
Choraleers is an all girls choir that ranges from sophomores to seniors. They recently were sent to a barber shop performance, making a name for female choirs. They were the only show choir there, which is huge in a barber shop performance.
They also went to a Solo and Ensemble performance, where small groups or individual people performers are graded and ranked. MHS members ranked very high in this performance and will go again later this year. 
"I feel like we have come a long way from what we've been," said Anaiah Hubenschmidt, a junior in Choraleers.
Members of Choraleers often get overlooked because they are an all-girls choir. Despite the lack of recognition, they aspire to show people their talent and display the hard work it took to get in this varsity show choir. Choraleers has the same prestigious work as members in Center Stage, yet often get looked as lesser.  
"We are looking to show people what we have and that we aren't a joke," says Davidson.
The men and women interested in participating in one of these show choirs have to audition. In the audition, they sing, dance and are asked to read music. Boys who audition and make it go to the combined choir, Center Stage. Girls who get in can choose their preference of either Center Stage or Choraleers. Ultimately, Lambrecht will place students where she feels they would fit in best for the program.
The choir program performs four concerts per year. They have their winter and spring concerts, where all four choirs perform and sing. Next,they have their Pops concert, in which only Choraleers and Center stage perform. At the end of the year, Center Stage and Choraleers have a performance where the seniors pretty much control the show.
Caberet is the show for members of Center Stage while soiree is for the Choraleers. Schwendenmann describes it as a going away show for seniors.  
Overall, the main focus every year for the show choirs is preparing themselves for their POPS concert in the spring.
The POPS concert is a showcase for both varsity choirs, where they put together multiple singing and dancing numbers to perform to friends, family, and anyone who knows about the success of the choirs.
"That's when it's very "show choiry". It's more theatrical and there's usually a theme. It's a pretty full scale performance," said Schwendenmann. 
To raise money for POPS, they perform at many parties during the holiday season and fund for this big concert.
Concert choir and Men's Ensemble perform in concerts to show their hard work throughout the year. Both of these choirs are great classes to learn the foundation on choir and to help students learn the basics. They are also great if students want to test the waters with being in choir. If you are the least bit interested in joining an advanced choir or to just have a fun and relaxing class to look forward to, concert choir or men's ensemble are the classes to take.
Joining one of the many choirs at Milford could open you up to a new experience that you may enjoy. They are very successful and they keep getting better. Don't knock it, 'til ya try it.