After working tirelessly all season and competing at several competitions, the Huron Valley  combined marching band placed 9th at the State Competition on Nov. 6 at Ford Field in Detroit. The band performed at several competitions throughout the month of October before attending states. Practicing long durations, members spent four hours each Tuesday and Thursday p.m. and 12 hours every Saturday perfecting their performance. "Although practices were long, it was worth it in the end," Senior Aaron Kowalski said.
Making it to the State Competition and placing in the top ten is a huge accomplishment for the marching band, especially considering the changes that they had to adjust to at the beginning of their season. Milford and Lakeland went from having their own separate Marching bands to having one combined. "In the beginning, we weren't certain about the combined band, but it turned out really well. The show makes a bigger impact with a larger number of members." Kowalski stated. The Milford band was down to about 30 members before they  combined with Lakeland. Now, there are around 100 marchers. It didn't take long at all for the two bands to get to know each other and work well together. "My favorite memory from the season was realizing at band camp that the kids from both schools had already come together as a band." Director Bob Green said.
Green made the transition from directing only the Lakeland Marching Band to directing the combined band. "People were skeptical at first, but I was doing the best thing for the success of both bands," Green said. The Lakeland Marching Band has been successful for many years thanks to Green's hard work and dedication. When Milford's band director resigned last year, Green wanted to help both groups. "I wanted to make this year great, especially for the Seniors," Green shared. Green stated that the transition was quite easy due to how flexible the kids were. Everyone adjusted well to a new method of teaching. "This year we had more freedom when it came to warming up so we could focus on what we need to work on" Senior Amy Scripture said.
This year's State Competition had 53 marching bands competing. Out of the 53 bands, HVS placed in the top 20 percent. The band had a great performance and several of the members agreed that it was a great way to end their season. "Everyone felt really good about the performance at States," Scripture shared. They performed their entire show and received an excellent place. "The performance at States was awesome! The last three weeks were the best growth wise, and at states, everything clicked." Green said.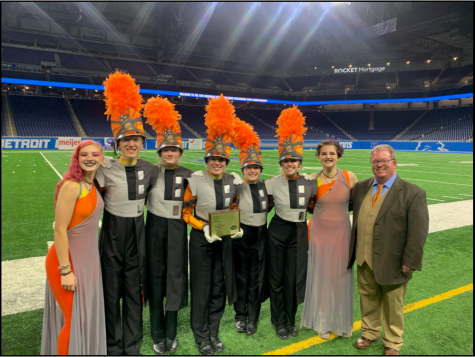 After attending the State Competition, the marching band went on to compete at Nationals in Indianapolis. Attending Nationals was not required for the band, but they decided to take the next step and perform for the experience. "It was the first time attending Nationals for the Milford kids and everyone had a lot of fun" Scripture said. "It was mostly about learning; we weren't looking to win." All around, the marching band had a fantastic season with great final performances at States and