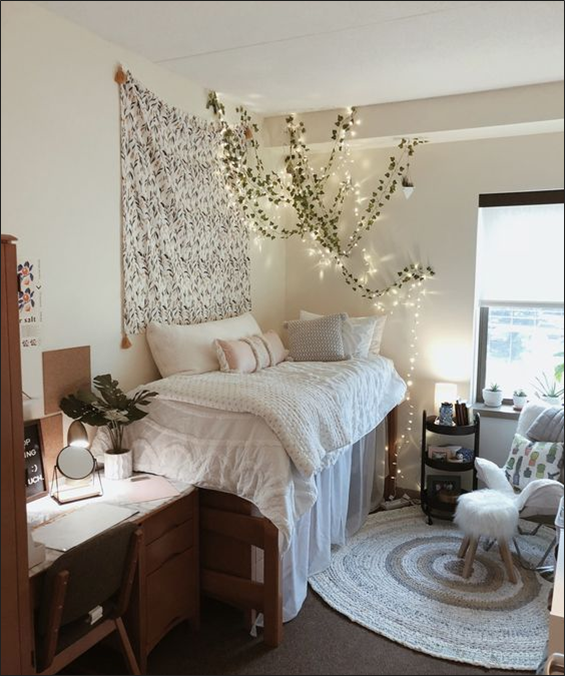 With college only a few months away for the Class of 2021, many seniors are already thinking about their futures.
Whether or not you like decorating value your dorm's appearance, it's important that you feel comfortable and enjoy the space. There are many ways to personalize your dorm and make it a fun and unique place.
You can start gathering ideas by looking online or using Pinterest for inspiration. Your average dorm at a college is about 12-by-19 feet. With limited space, you have to find room for storage, a bed, and most likely a desk of some sort. It seems impossible to decorate with such limited space, but there are several ways to do it.
Tapestries and posters
One way to personalize your dorm and make it a comfortable space is by putting up pictures or posters you like. If you are interested in music, you might consider making a collage of your favorite band or artist's album covers. You could even put up posters of musicians or bands you like. If you are someone interested in sports, you could hang a poster of your favorite sports team. Another option for wall decoration is tapestries. You can find hundreds of designs and colors that can match any room. They easily brighten up a space and can add color or blend in, depending on what you want.
Plants
     Plants are a great opportunity to add some natural color and brighten up your dorm room. UW Medicine has stated that plants not only freshen the air, but can reduce stress, lower blood pressure, and increase happiness. You can set them on a desk corner, a window ledge, or even hang them on walls or from the ceiling depending on dorm rules. Due to lack of space, you have to find small plants. It is also important that you get a plant that can survive in your room's lighting. There are many low-maintenance plants, such as succulents and air plants, that could make great additions to a dorm room.
Pictures
A great way to decorate your dorm room is to hang personal photos. They are easy to put up because you can use plain tape or even hang them using clothespins. You can also create a gallery by framing your pictures and arranging them in a unique way. Dedicating a wall to photos of friends and family at home can help with homesickness and make your dorm room feel homier.
Lights
When moving into your dorm, you won't have much say or control over the lighting in your dorm room. The lights could be blindingly bright or dull and faded, making relaxing or studying difficult. A great way to manage the lighting in your room and add a fun element to the space is by purchasing your own lamps, LED lights, or fairy lights. Both are quite affordable ranging from about $15 to $35 on Amazon. Unique and fun lamps can make studying easier and be another way to personalize your room. LED lights and fairy lights can be hung on walls to brighten the room and make it aesthetically pleasing. Which you choose is all dependent on your style and what you think will look best in your room.
Rugs
When you are assigned a dorm room, you don't get to decide whether you get hard floors or old, thin carpet. A great way to add color and make your floor more comfortable is by purchasing a rug. There are good, affordable options at both IKEA and Walmart if you don't want to worry about shipping. If you'd rather purchase your rug online, Amazon has several good options for reasonable prices. Rugs also help deal with cold floors in the winter months. You can get a thick, plush rug or a thinner, more decorative rug, depending on what you want. If you plan to have a color theme in your room, a rug would be a good choice to coordinate with bedding, wall decorations, etc.
When making plans for your future dorm, there are many ways to personalize it and make it your own space. With the right planning and decorating, your dorm can turn out any way you want.