Depression: the myths debunked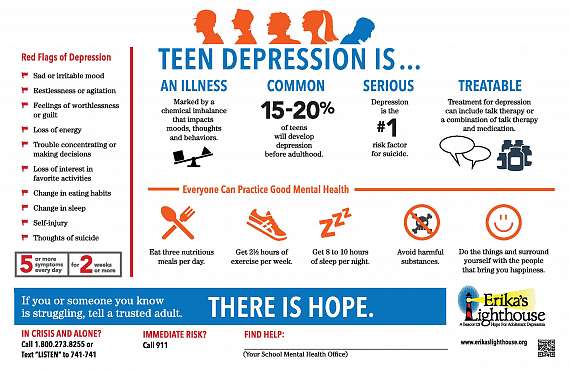 Hang on for a minute...we're trying to find some more stories you might like.
The American Psychiatric Association defines depression as, "a common and serious medical illness that negatively affects how you feel, the way you think and how you act." Depression has been around for a long time and doesn't seem to be going away anytime soon. Globally, more than 300 million people of all ages suffer from depression," states the World Health Organization. Depression affects affects many around the world, and is not just limited to the United States. Depression affects affects many around the world, and is not just limited to the United States.  According to the National Institute of Mental Health(NIMH), signs and symptoms of depression include: "persistent sad, anxious, or "empty" mood, feelings of hopelessness, or pessimism, irritability, feelings of guilt, worthlessness, or helplessness, loss of interest or pleasure in hobbies and activities, decreased energy or fatigue, moving or talking more slowly, feeling restless or having trouble sitting still, difficulty concentrating, remembering, or making decisions, difficulty sleeping, early-morning awakening, or oversleeping, appetite and/or weight changes, thoughts of death or suicide, or suicide attempts, and/or aches or pains, headaches, cramps, or digestive problems without a clear physical cause and/or that do not ease even with treatment."
However, there are many myths about depression that inaccurately portray this disorder.
Suicide rates increase during the winter
As the weather gets colder, the mood of some people seems to become darker. The months of November and December are usually associated with an increase in suicide rates, but according to CDC.gov, suicide rates are lowest in these months and tends to rise during the spring and fall.
As the holidays approach, the amount of stress people undergo increases; but this stress isn't the type of stress that causes people to commit suicide. Christine Moutier, a psychiatrist and the chief medical officer with the American Foundation for Suicide Prevention, told NPR that, "instead, people are driven to end their lives because of factors like genetics, trauma, mental illness, and access to guns." Suicide rates tend to increase during the spring because studies have found that as the amount of sunlight increases, so does the suicide rate(JAMA Psychiatry). "The authors speculate that sunlight could boost energy and motivation, thus giving people who are depressed the ability to take action and make a suicide attempt," wrote Matthew Nock, a professor of psychology at Harvard.
Depression is the same as being sad
Depression is different than being sad. We all get sad during certain times in our lives, but we are still able to function and move on with our day; but for those with depression, it is more than just being sad. The National Institute of Health states that, "when a person has depression, it interferes with daily life and normal functioning."
When someone is depressed, the smallest everyday activities can feel like climbing a mountain. Something that would usually take a couple of minutes, like getting out of bed, can turn into what feels like an impossible task.  "All I want to do is stay in bed, sleep as much as possible and drown my thoughts in television if I can't possibly sleep more. I get discouraged easily… no extra willpower to push myself through a day. It's taking everything just to attempt the day…," said Rachel O., from The Mighty. Depression is much more than just feeling sad
Depression isn't a real illness
Mayo Clinic defines mental illnesses as "disorders that affect your mood, thinking, or behaviors." Depression is classified as a mood disorder and can take a toll on one's body, both mentally and physically, as well as those who are around people with depression.
There are several different forms of depression, but according to depressionconnect.com, the three most common forms of depression are major depressive disorder(clinical depression), dysthymia(chronic depression), and manic depressive illness(bipolar disorder).
Clinical depression is characterized by a period of four to eight months of depressed mood and loss of interest in normal everyday activities. One who is clinically depressed often finds it hard to motivate themselves to begin daily activities.
The second most common form is chronic depression. People diagnosed with chronic depression show symptoms of low self-esteem, difficulty making decisions or concentrating, and persistent feelings of hopelessness(Harvard Health). Symptoms will last for at least two years.
Those diagnosed with bipolar disorder experience manic and depressive periods and experience frequent mood swings. During manic periods, the victim acts upon impulse and makes quick and unethical decisions; during depressive periods, victims often self- loathes, feels restless, hopeless, or even empty inside.
If you are depressed, you can snap out of it
"Just snap out of it..why can't you just be more happy…" These are comments that those with depression often hear day to day. Depressive episodes can last anywhere from a couple of months to a couple of years, which makes it extremely difficult to just get up and move on with it.
There are other ways that people can cope with depression. For those who are depressed, it is best to reach out and stay connected with family members and friends. Stay moving and do things you enjoy. By keeping busy, you are more likely to feel less depressed because your mind is focusing on other activities(helpguide.org).  
Depression is not something to joke around with and should be taken seriously. If you or someone you know may be suffering from depression, reach out for help. There are several people that you could reach out to- i.e. parents, family members, trusted friends or adults, school counselors, therapists, etc. Believe it or not, there are Milford students that suffer from depression. There are staff members here that students can voluntarily reach out to for help. Karen Kerr, the school social worker, and Paige Riley, the school psychologist, always keep their doors open and are willing to help any students that want the help.