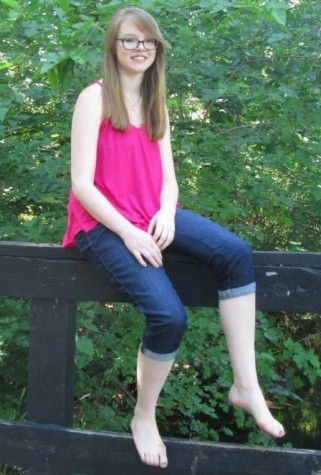 Karen Danner is currently a twelfth grade student at Milford High School.

She grew up in Highland, Michigan with her parents, her two sisters and her brother. It wasn't until she entered eighth grade that a pet entered her life, when her sister brought a cat home.
Karen has been involved with the Mackinac Island Honor Scout program, a special group of scouts that serve as the Governor's Honor Guard, for the past six years, loving everything about it. The group goes up to Mackinac Island to assist tourists around Fort Mackinac and the Downtown area; raise and lower the flags around the island; and explore the island's secrets. Her most treasured memories are of the island and the girls she met through the program.
While her future plans are undecided, she has an interest in criminology, psychology and sociology, and would like to learn more about these fields. As of right now, it looks like Karen will be attending Oakland Community College for a little while before transferring over to Central Michigan University.



Karen has been a diligent reader from a young age, and has also developed a passion for writing.

When she isn't working on homework, she can be found playing fetch with her cat, taking her cat outside for a walk, watching movies with her brother, hanging out with friends, reading hard books or taking a nap.


Karen Danner, Staff Writer
Jun 01, 2016

Survivor tells the sad story of teen depression, attempted suicide

(Story)

May 16, 2016

To the People Who have had a Strong Influence on Students' Lives

(Story)

May 16, 2016

The value of E2020 in students' eyes

(Story)

Apr 29, 2016

Lighting it up for Autism Awareness

(Story)

Apr 24, 2016

Play Pro's production of Fairy Tale Courtroom

(Story)

Apr 18, 2016

Reactions of the inspiring Holocaust survivor speech

(Story)

Mar 24, 2016

Holocaust survivor discusses the horrors of his past to educate teenagers

(Story)

Mar 24, 2016

The move from teaching to being an administrator

(Story)

Mar 18, 2016

Milford increases awareness of safety protocols

(Story)

Mar 09, 2016

Basic Car Care… for Everyone

(Story)

Feb 17, 2016

Turning online business into real life skills

(Story)

Feb 04, 2016

MHS skis to the finish line

(Story)

Nov 19, 2015

The history of Veteran's Day – How did we end up celebrating in November?

(Story)

Nov 12, 2015

Mackinac Island Honor Scout Program changes lives

(Story)

Nov 12, 2015

A Desensitized Generation

(Story)

Oct 15, 2015

Riding to the Top

(Story)

Oct 05, 2015

Tennis team will finish successful season with Regionals on Friday

(Story)

May 12, 2015

Fallen Soldier Tribute for Central Park

(Story)

Apr 24, 2015

Indiana Religious Freedom Act: How Far is Too Far

(Story)

Apr 23, 2015

DECA Takes a Trip to States

(Story)

Apr 23, 2015

Cinderella 2015 Movie Review

(Story)

Mar 24, 2015

MHS Deals Swiftly with Threat

(Story)

Mar 20, 2015

Winterfest Pep Assembly

(Story/Media)