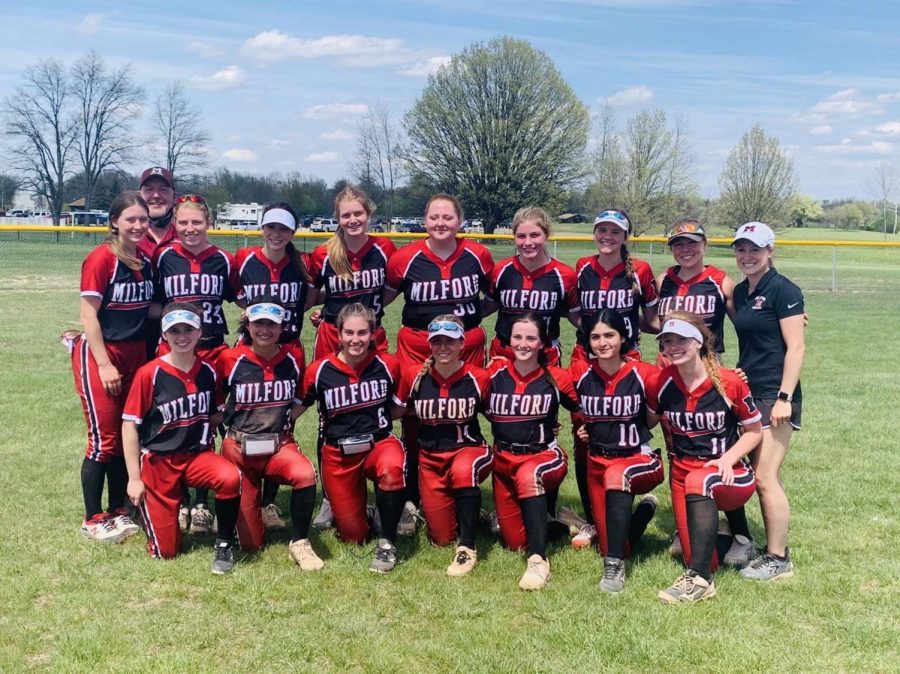 As the winter sports come to a close, the spring sports begin. Milford's Softball team is preparing for a successful season this year. The girls have been working hard in the off-season and are ready to be on the field. With great preparations and returning players, the softball team has a bright future ahead of them for the upcoming season. 
Heather Davis, the head coach, has been coaching the Milford Varsity Softball team for three years. Davis is anticipating a great 2022 season, "We have the opportunity to have a great year if the players buy in and play to their full potential." Although the team has lost some key leadership players from last year, Davis is hoping for some of the returners to step up and lead the team. "We hope to exceed last years' season and continuously grow and build each season." 
Milford's Varsity Softball team had its ups and downs last year. "Going into my third year with all the COVID-19 restrictions and missing an entire season almost seemed like we were going in blind but we fought through it and eventually made us realize that when we worked together we were more successful," explained Senior Lauren Laughrey. Many players are hoping this season will be free of distractions and will be back to somewhat normal. Beating Lakeland is one of the top goals for everyone. "My goals for this season are to finish out my Senior year strong and to beat Lakeland," said Senior Danielle Ryan. 
However after two tough years with COVID-19 restrictions, players are ready to get out there and just have fun. "I think it will be a really fun season and we will have more success than last year," said Senior Delaney Muncy. The returning players are ready to come back and give their best efforts on the field while making long-lasting memories.
With the warmer weather approaching, Milford's softball team is ready to get out on the field and get back into the "swing" of things. The Varsity Softball team's first game is on April 7 at 4 p.m. at Milford High School against South Lyon and the JV team is away at South Lyon on the same day and time. "I can't wait to see how well we're going to do this year," concluded Laughrey.