Snowboarders react to Alpine's new ownership
Alpine Valley is one of Michigan's best resorts to travel to during the ski and snowboard season.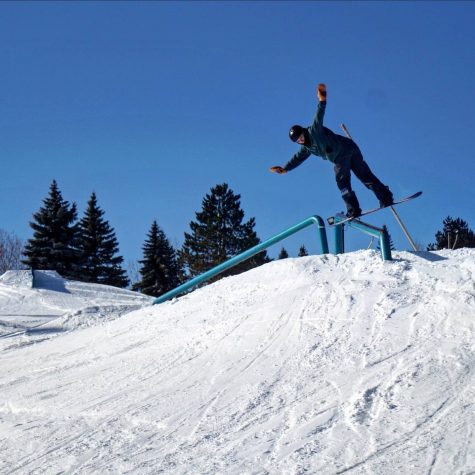 Despite the many seasons of consistently good snowboarding, according to many local snowboarders, Alpine has recently been downgrading almost every aspect of the hill with their poor management.
With  the beginning of the 2021 snowboarding season, Alpine is going to start their lifts freshly under the new ownership that runs Pine Knob, called Wisconsin Resorts (WR). Pine Knob is one of the best places to snowboard in Michigan, featuring an excellent terrain park that will outperform any other resort's terrain park in the area. [How will this affect the snowboarders of Alpine Valley when introduced to the new changes?]
The terrain park is one of the most important features of any ski resort for snowboarders. Filled with all kinds of jumps, rails, and creative masterpieces, this is where the snowboarders get to show off their creativity to all kinds of park rats on the hill. [Will Alpine's park be able to compare to Pine Knob's this season?]
Last year the big park for Pine Knob opened Dec.  22 while the park for Alpine opened Jan. 16 This 26-day delay in the opening of Alpine's park was terrible news for all the snowboarders. The snowboarding park season only lasts about three months, therefore opportunity is crucial. Snowboarder, Carter Ryska, has some feedback on how the new ownership will affect the opening dates. "Alpine being under the same ownership as Pine Knob will force the parks to open sooner with the amount of new equipment purchased for Alpine this year," said Ryska. He makes a solid point in mentioning the ten new snow blowers and the new groomer purchased for this season.
Snowboarder Will Colone had the same idea, "Alpine's park will improve since they got a new park groomer, and they will have more money to work with from Pine Knob so they can spend it on the park," The snowboarders are really looking forward to a better terrain park this year, and are hopeful for the best season of snowboarding yet.
Now, how will the average snowboarder at Alpine react to these changes? To start off, most novice snowboarders purchase a season pass to ride as frequently as they can all winter long. Every year, the season pass can cost anywhere from $400 – $550. This year, WR is raising the pass price to almost $600.
Skier and Snowboarder, Anabel Lisabeth, has a strong opinion whether this price increase is worth it or not, "As an average snowboarder, this price change is ridiculous, and it's almost not even worth it at this point," said Lisabeth. Now WR also has a Multi-Area season-pass deal that will allow one pass to access you to all 6 WR resorts, including Pine Knob, Alpine Valley Wisconsin, Bittersweet, Mt. Holly, Searchmont and now Alpine Valley Michigan starting at $698.
Now this deal might seem like a snag, but the other competing ski resort companies hold their passes way cheaper than almost $700. The Epic Pass ski resorts access 32 resorts and cost $600.
Snowboarder Eric Magid speaks his mind about these passes: "It doesn't make sense for WR season pass holders to have to pay almost $100 more than the Epic Pass holders, but whatever, I'm still glad I got to shred Pine Knob," said Magid. He shows the frustration in this price increase, but is still willing to purchase the pass along with most other snowboarders.
Although these high prices are frustrating, snowboarders like Jett Edson, are not
complaining about the season pass increase at all, and are overwhelmed with emotion at the thought of WR taking over Alpine Valley for the years to come. "We have a bright season ahead of us," said Ryska. "I'm hoping for the best year yet at Alpine!"