Milford girls golf team swinging their way to the top of the LVC
With the pressing issue of COVID-19 looming over the heads of our nation and many others, the girls' golf team has made it clear that even a pandemic can't stop them from having a successful season. Milford High School's girls golf team this year is seeing the most promising results in many years. While the team is no stranger to a winning season, the girls this year have started out undefeated in their matches and claimed second place in all of their tournaments. At the beginning of September, sophomores Ava Moore, Caroline Colt, and senior Devin Chaldecott all had contributing scores in the Oakland County Tournament, earning the second-place spot and moving the team up to Division I for the 2021 season. Both Moore and Chaldecott stated that their goals included making the conference at the end of the season.
However, this does not mean that they have not taken great lengths to stop the spread of COVID-19. "Any time we are in a huddle as a team, masks are on, we are not using the rakes for the bunkers, the girls are not touching the flagsticks, and we are not swapping scorecards. It truly is a hands-off, no contact type of thing," Varsity Coach Brent Pearson explained, "when we are close, masks are on, otherwise, distance is kept. I feel confident that even if a player was to come in contact with the virus from somewhere else, we don't have to shut down as a team because we keep that distance and strict precautions are in place." All of the girls seem to be grateful for their season to continue. Chaldecott says, "I am happy to be able to have my final season." When asked what senior season means to her, she continues, "Senior year to me is all about teamwork. My past years on the golf team were very individually based; I only focused on my game to a serious extent. This year is all about having fun and building strong team relationships. We are a great team this year and I am so proud of everything we have done as a whole." Moore continues to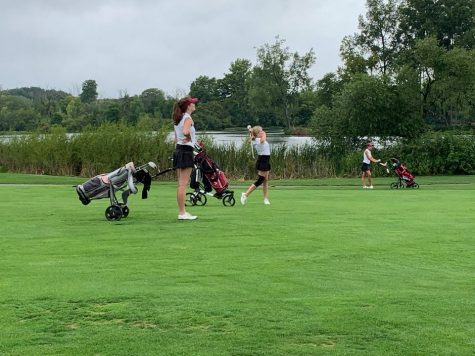 say, "I don't know what I would do if there was no golf season." Having a golf season brings a sense of normalcy into the girls' lives during these abnormal times.
While talking to all of the players and Coach Pearson, there is one commonality: a sense of pride. Milford girls golf is beginning to show themselves as a tough competitor to the other teams in the conference, including South Lyon, which has always been a strong team in the past. They have climbed their way up to the second spot in the conference this year. "Compared to other seasons, we are definitely on a better track and we are looking good this year," Pearson explained. "Our seniors take things seriously; they are still competitive but are able to have some fun with it and be good role models for the other girls." Chaldecott is one of the co-captains of the team this year and has proved herself to be a great role model for the younger girls. "I think I am someone the younger girls can come to with advice in their game. I always encourage them to ask me about how their swings look or how they can hit better shots," Chaldecott states. "I would hope I am a strong leader for those girls and that I have created a positive and fun environment for them."
This season more than ever, Milford girls golf is proving to everyone that they are a force to be reckoned with. It is clear that there is some young talent such as Moore and Colt and more promising players developing their swings that are destined for success. It will be exciting to see where Milford girls golf takes their program not only by the end of this season but in upcoming years.