Some fall sports achieve greatness, others make strides in 2016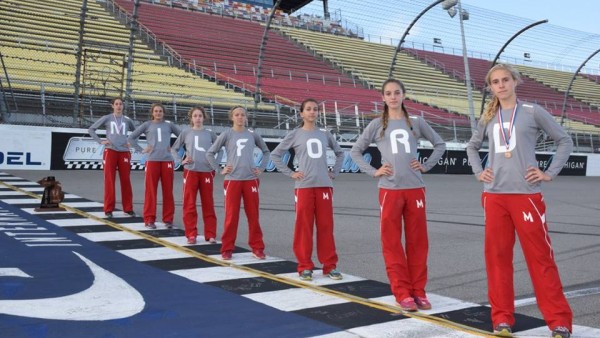 Milford High School Athletics had a successful fall campaign with many sports achieving great success, highlighted by the girls cross country team's first state championship. When measuring performance though, one can not just look at wins and losses. Many athletes improved even if they did not come out victorious and many coaches were proud of their teams. Here is a look at each fall sport's season:
Girls Cross Country
Starting with the State Champs! The Milford girls Cross Country team won the state title this year at the Michigan International Speedway. They were led by runners like Mallory Barrett, Victoria Heligenthal, Nicole Grindling, Natalie Black and Regen Lobodzinski.
"We started off rough in the beginning with third place at the Oakland County meet, but we ended the season by winning the conference, Regionals and the state meet," said junior Nicole Grindling. The team was full of pride after overcoming injuries and setbacks early in the year.  After 13 top ten finishes in the last 20 years, the girls finally reached the top.
Boys Cross Country
It's hard to believe that anyone would be disappointed as one of the top finishers in the state, but with five State Championships, the Boys Cross Country team's sixth place finish at States did not make the boys happy. "We did not do as well as we wanted, but we were still divisional champs, Oakland County runner ups, regional runner ups and conference runner ups," said Junior Nolan Bailey. The success of past teams set the expectations so high that even a great finish seemed disappointing. Though this was probably the second most successful team at Milford this fall, the boys are hoping to build off this year's finish and improve for next year.
Swimming
The Milford Swim team also had a successful year. The team came in fourth place in the KLAA division and they improved from previous years. They also came in 6th place at Conferences and had two individual swimmers, Veronica Hindle and Emma Augustsson join Milford's two relay team at States.
"Not only was it a success swimming wise, we had a solid group of freshmen join and learn a lot. I think we grew a lot in both swimming and as a team this year, so yeah I would 100 percent say that this year was a success for Milford Swim," said senior Audrey Painter.
Volleyball
Volleyball did pretty well this year, but much like cross country, the volleyball team is a victim of past success setting extremely high expectations. The 2015 squad won the conference, so when the team made it to the semifinals of the 24-team KLAA league, it was a great success, but it did not match the previous year's accolades. The girls ended the season at 14-10 . "I don't see this season as a success right now, but hopefully in the future I can look back and say we did have a good season. We just had so much potential and didn't make it that far," said senior Lexi McFall, the captain of the volleyball team. The seniors were just not happy with leaving the team with a ending like that when they knew they had such a good chance of going further.
Golf
Milford girls golf attended regionals this year, but did not move on any further. Even though they did not win as much as they wanted, they all improved. "This season was successful in a way that all of our seniors improved a lot and shot their best rounds and we had a lot of fun, so I think that's pretty successful." said senior Emma Albert. Overall they had a good season that showed improvement in everyone's skills and their overall scores.
Soccer
This year in soccer, the Mavs did pretty well, finishing 3-5-1 in the KLAA West. They did not go far in the postseason, but they played in many close games during the year with the Flop Squad cheering them on at almost every game. If you are unaware of what Flop Squad is, they are a growing group of students who have a passion for soccer and love to support our soccer team. The team hopes to improve next year with many starters returning. "This season was not a huge success, because we could've done better with the talent we had on our team," said the captain of the team, Dante D'aloisio.
Tennis
"We won a lot of the fair fights, but we did not come out victorious in the unfair ones," said the Milford tennis coach Richard Kynast, who was  happy with the improvement of his players. "Nick Scheske improved a lot as a tennis player this year and Greg Russell is a good tennis player and he loves tennis more than anyone else I know." The team finished fifth at the KLAA Conference B Tournament. Kynast said that some schools, such as Novi and Northville, have many players that are a part of tennis clubs and have year-round access to facilities. Milford players do not, but competed well against other teams.
Football
The Milford football season did not turn out like the players wanted, but they worked hard and made the best out of their situation. "Our season was not successful, but that was because of all the injuries that occurred during the season," said Junior Aiden Warzecha, the quarterback who stepped in when senior Zach Jones hurt his leg. The team lost many kids to injuries like ACL tears, broken legs and a broken shoulder. They achieved a record of 2-7 with a lot of younger kids replacing the 10 players who had season-ending injuries. With all the kids missing, many players had to step into new positions. There were some positives though and there is some hope for next year. "Noah Serafin did not play a ton last year, but this year he stepped up and played a lot and played very well," said Warzecha.
Equestrian
Milford's Equestrian team did not go very far in terms of winning, but they were still very happy with how they did as a team. "We did not go to States or anything, but we learned a lot about our horses and our team," said senior Hannah Peterson
Pom
During football games, there are two different groups that you watch dance and both groups were happy with their performances. "Everyone put their all into the routine and we always did the best we could every performance," said Payton Leo, a junior dancer on the pom pom team. They do not compete in competition, but the team was happy with how they danced at every football game.
Cheerleading
The second group are the cheerleaders. "Looking back, we grew a lot as a team and improved by the end," said junior Courtney Fortin, a member of the sideline cheer team. This team also does not compete, but they do compete during the competitive cheer season, which begins during the winter. Overall, the girls were proud of how they performed in front of the student section and the parents during the football games.