Milford Varsity Hockey took a hard loss to Walled Lake Central on January 30, 2013 at home in the Hartland Ice Arena.
With Milford's starting goalie out, Dustin Rim had to take on the fight. After letting two Central goals in just in the first period, Milford players knew they needed to step up their game.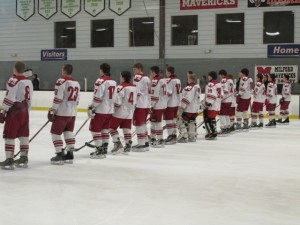 Milford focused on getting the puck into Central's end and getting many shots on goal. Assistant captain and Milford forward, Trevor Tierney came out in the first, playing hard and hoping to score some goals. He went hard to the net with his teammates and scored twice, once early in the first, and again late in the first.
At the start of the second, Evan Wilson got a break coming extremely close to scoring but hitting a post. With everybody thinking that it was a goal, it was called off and not counted. Coach Paul Ogden tried to fight with the refs to get it counted, but they continued to say it was not a goal.
"Everybody was shocked it wasn't a goal but there's nothing we can do about it now, it's over with." Says Tierney.
Penalties hurt Milford the most during the game with a total of four penalties and two goals scored against them on Central's power plays. Milford forward Jenson Munce says "being short handed, it's hard to play with only four guys on the ice." Milford has had a hard season dealing with penalties and killing the power plays but is working on improving them. "With them having a man-advantage, it's hard to stop them from scoring" says Munce.
Milford came out with a tough loss to a final score of 6 to 3 at the end of the third. Knowing what they need to do to prepare for their next game, Milford's captain Evan Wilson agrees with Coach Paul Ogden that they have to come out with more discipline on their defensemen, and forwards with more fore checking and back checking. But Wilson, Ogden and the hockey team, agree that it was an overall good game. "Even though the score didn't show it, we made better plays, improving as a team." Says Wilson.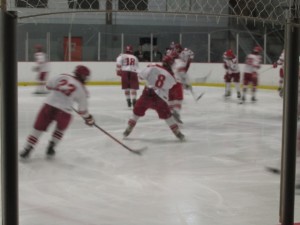 Milford's next game is Saturday, February 2nd away at Pinckney at 3 p.m. Focusing on punishing their defense and working as a team on power plays and penalty kills, Milford is ready to come out stronger than ever.  Working on having fewer penalties and more scoring opportunities they hope to come out with a win.