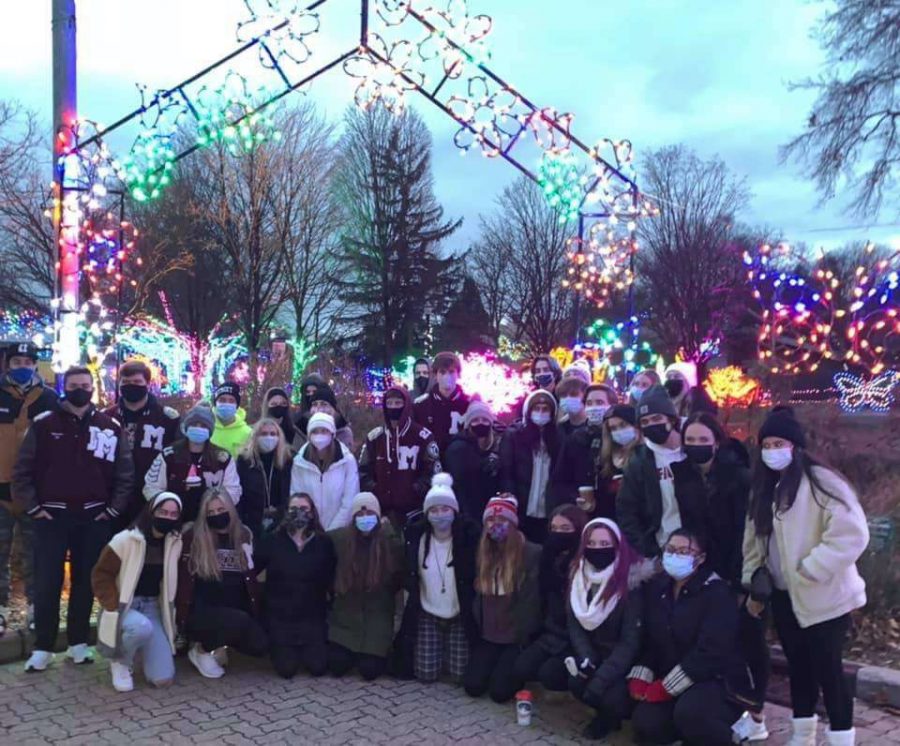 Kathy Spray
On Dec. 13, 65 Milford seniors embarked on a trip to the Detroit Zoo for Wild Lights, an impressive light display that illuminates the outskirts of the city every holiday season. The activity was organized by senior parents, who have been working diligently to ensure that this year's seniors are staying involved and connected with classmates while also staying safe and socially distant. 
This year, Wild Lights showcases more than five million LED lights, which blanket the zoo in color during thirty-two cold winter nights. The lights illuminate trees, buildings, and sculptures that resemble a diverse array of zoo animals.
Prioritizing the safety of its guests, the Detroit Zoo granted admission to only 1,150 people at a time. Additionally, indoor seating locations, as well as exhibits and other attractions, were closed. Every guest was required to wear a mask at all times and remain distant from other parties. "Though many of the zoo's amenities weren't open, I still really enjoyed the event," explained Senior Riley Coesens. "It was cool to see the effort, planning, and creative initiative during the event through the different light exhibits."
Because the entire event was outdoors and temperatures were barely above freezing, students layered in warm clothing, hats, and gloves. Masks were found to be beneficial as they sheltered faces from the cold. "I was significantly warmer than I thought I would be," began Senior Sam Spray. "Not just because the temperature was in the mid-30s, but also because my mask was an extra layer of warmth that I'm not used to having."
After being completely online for more than a month, students were excited to have an opportunity to see their classmates. "I really liked seeing all of my friends; that was the best part of the trip for me," said Senior Aspen Snyder. "Now that I don't see them five times a week, I miss them a lot, and I get really sad when I can't see anybody." Senior Julia Salvati agreed: "The best part of any Senior activity we've done so far this year is spending time with friends that we don't get to see as much anymore."
Students were also motivated to get out and do something safe and fun amidst the pandemic. "I liked having something to do besides sitting in my house all day," Spray explained. "The trip to the zoo allowed me to get outside and take a break."
Seniors who attend the various events planned by parents are grateful for the opportunity to have an enjoyable conclusion to their high school career. "The senior parents have done a wonderful job finding and initiating fun opportunities for memory-making so far," began Coesens. "They continue to offer a wide range of activities that everyone is sure to enjoy."
Every student this year, not just seniors, is often finding themselves drained by the uneventful school year; though most of the fun is gone, the work remains. Thanks to the parents who are willing to plan special events, the seniors have an opportunity to have a memorable year to conclude their high school experience. Though the end of online school is fast approaching,  this year's second semester will continue to be anything but ordinary; getting involved and bonding with friends despite the circumstances adds a spark to an unusually dull school year.