Seniors are all in this together
Class of 2017 tracking shot sets the bar high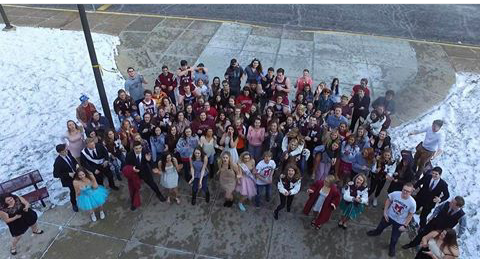 Bre Marsh, assistant feature editor
January 23, 2017
January 7th, 2016, seniors were found running on tables in the cafeteria, banging on pans in the kitchen, and sprinting throughout the halls.  This sounds crazy but is all in the script for the 2017 tracking shot. The senior tracking shot is a video with no cuts where seniors dance and lip sync to a song of their choice.
The annual tracking shot is created entirely by students. The seniors involved hold the meetings, plan the choreography, pick the song, and film the production.
This year, 10 students who are in Great Works, a senior English class, took the roles as directors. The directors (Becky Busen, Elexa Cary, Ryan Eggerding, Jessica Fisher,  Maddi Helz, Stephanie Herman, Steven Kalis, Sierra Milbrath, Frank Morris, and Julia Schwendenmann)are in charge of choreography, line assignments, and meeting arrangements. They also are in charge of reserving space to film.
The directors reserved the entire school for the video to be on Saturday, Jan. 7th. Scheduling a time for all directors could attend and where there was nothing happening in the school was not easy.
They set a date only to learn that there was supposed to be a cheer competition the same day. After trying to find another date that wasn't going to interfere with anyone else's schedule, they got the good news that the cheer competition was cancelled, leaving them the whole school to themselves.
Some students in Great Works, which is taught by Ms.McGraw, do it just for part of their final exam grade. Others, whether they are in the class or not, do it to be a part of a fun senior tradition. Whether they wanted the grade or just to participate, directors agree that everyone's cooperation was great.
"They seemed to care about the tracking shot as much as the directors did," said Cary.
The class of 2017's tracking shot video is unlike any that Milford students have produced. This year, students used  a quadcopter to film the tracking shot. Senior, Ashleigh Heath, flew the DJI Phantom 3 quad around the school for the video.
Heath has been flying RC planes for 7 years, but never flew a drone until the idea was brought up to tracking shot directors.
"We thought it would be cool to film with a drone, so I tried it out and it worked," said Heath.
She started practicing months before the video was filmed to make sure she could do it and that they didn't have to make other plans for filming.
"Working with the drone was cool and the video was really good." said Cary. "It was kind of sketchy because it was hard trying to explain how I wanted it to be shot. It doesn't go very fast."
Student, Izzy Mogielski, also feels the drone was a good part of the tracking shot,but of course had complications.
"The drone was good but some people's parts were cut short because it couldn't turn that fast," said Mogielski.
Students felt that the quad set us apart from other classes' videos from previous years. "I did really like using the drone. I thought it made our tracking shot better from last year's," said Riley Similar, another senior who participated.  
Another thing that made the class of 2017's video stand out was instead of using one song for the video, Cary created a High School Musical mashup of songs that fit the high school experience perfectly.
"I've wanted to do the tracking shot since freshman year and use High School musical songs and dance and tables," said Cary. Being the directors of the "stick to the status quo" scene, Cary made it happen and students danced on tables to High School Musical.
Directors chose a song to create a dance to and assigned lines of those songs to other students.. Everyone helped each other with choreographing their scene to make it as best as it could be.  
There were nine songs in the video. As viewers are watching, they are following Toby Ellis, who is acting as Troy Bolton, and Cary, acting as Gabriella Montez.
Directors decorated parts of the school for the tracking shot the night before.They also arrived at 8 a.m. the day of to do last-minute decorating and testing of the speaker. Students in the video were called to arrive at 11:30 a.m. and go to their scenes.
When everyone got to their places, directors worked with people in their scene to work out what everyone was doing one last time. Two run throughs took place without filming so that people could practice their lines and not kill the quad battery.
Two other shots were filmed. After the second filmed take, the drone died and there was a 20-minute wait while getting the drone new batteries. After a while of waiting, Mcgraw felt it wasn't worth keeping anyone around for longer when she felt the video was good and called it as the final cut and ended filming.
Students, Riley Similar and Mogielski who were in the tracking shot both wished more takes could've been done to make it better.
"The tracking shot was fine but, we got cut off too soon for everyone to be happy about it." says Similar.  
Although it wasn't as good some have hoped it to be, it was still a great video where students came together and had fun. The class of 2017's tracking shot is unlike any other from Milford High students and is definitely going to be hard to beat.