Milford students compete at DECA competition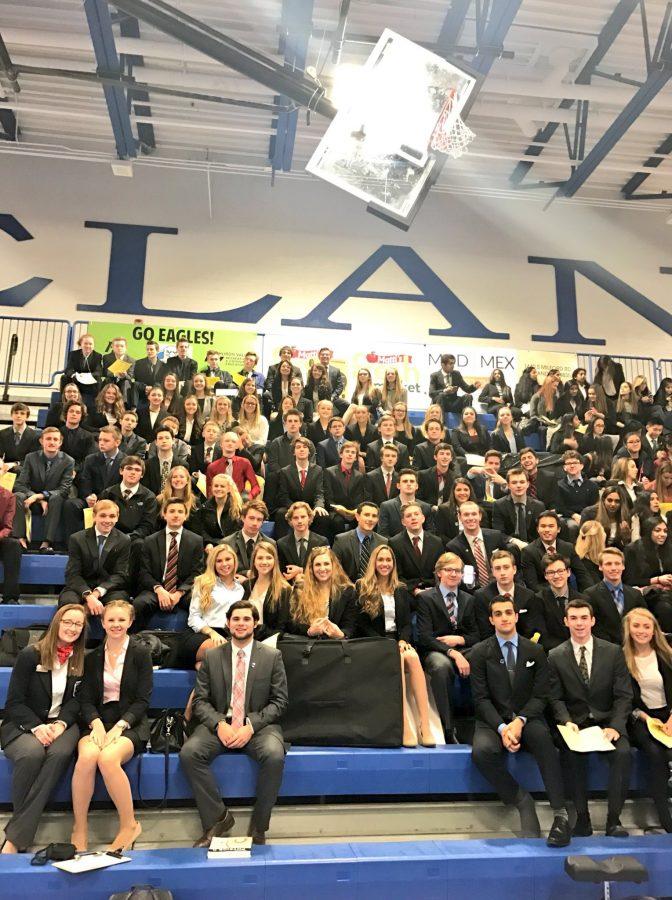 On Jan. 14, over 100 Milford students competed at the DECA district competition at Lakeland High School. Students prepared their presentations, different roleplays, and practice tests for four months, and their hard work finally paid off; 49 students will be moving on to the State Career Development Conference in Detroit later in March.
DECA is a club designed for students to become educated and prepared for careers in marketing, finance, hospitality, and management. The club is open to all students in a business class and is led by business teachers Dave Ehrlich and Kaye Sommer.
"DECA is all about learning how to interact with people more professionally and be keen with human-to-human interaction," explained junior Nic Glazer, who has been a part of DECA for two years.
This year marks the 20-year anniversary of DECA at Milford after Sommer started it in 1997. Throughout the years, Sommer has seen the club grow with more students and more events. "I've stuck with it for 20 years because I get to watch kids grow over four years," explained Sommer. "Teachers don't normally get to see that growth if they have a student for only a semester or a year."
Sommer often encourages her students to join DECA because they get to apply what they learn in all their classes to one club and they become prepared for real life problems they'll be faced with.
DECA has a variety of events for students to choose from, including written events or role plays. Students then compete against other high schools in these categories. Some role plays include months of preparation while others are impromptu (students are given the situation the day of the competition and have ten minutes to prepare).
Glazer's role play is a professional selling event, which takes months of preparation, where he takes on the role of a salesman and has to sell a product or service to the judge, who's taking on the role of a client. Glazer originally joined DECA because it was something his fellow classmates were doing, and he was encouraged to join by DECA's advisors, Ehrlich and Sommer.
Last year, Glazer made it all the way to Internationals in Nashville, Tennessee. "It was an unbelievable experience," Glazer reminisced. "Being able to travel and network with people from all over the country was something I'll never forget."
Other types of role plays include little preparation. Seth Seelye, a senior at Milford who's been involved in DECA for three years, receives ten minutes to prepare his presentation to the judge and then ten more minutes to present it. During Seelye's event, Marketing Communications, he is given a situation and then must discuss the best ways to market the product..
Seelye joined DECA as a sophomore because he hopes to go into a career in business after graduation. After strong performances from Glazer and Seelye, both students will move on to States in March.
Students who don't participate in role plays take part in written events, which involve participants researching and planning different proposals for businesses that they then present to judges. Different written events can either be 11 or 30 pages and require students to be determined and creative.
Whether students join DECA specifically to help them be successful in the future or just to spend time with friendst, DECA helps them build relationships that'll be beneficial for a lifetime. "DECA has helped me not only get closer with students and teachers at my school," explained Glazer. "But it also helped me work on networking with people, so I can continue a business career when I'm older."
Sommer reflected on several students who participated in DECA that graduated and explained that "even if students don't go into a career in business, the skills they learn in DECA help them in real life."
For the 49 students who performed well at Districts, they will be moving onto the State Career Development Conference in Detroit on March 10-12. Those who succeed there will continue their DECA journey at the International Career Development Conference in Anaheim, California on April 26-29.