Vampire Weekend Returns Ambitiously!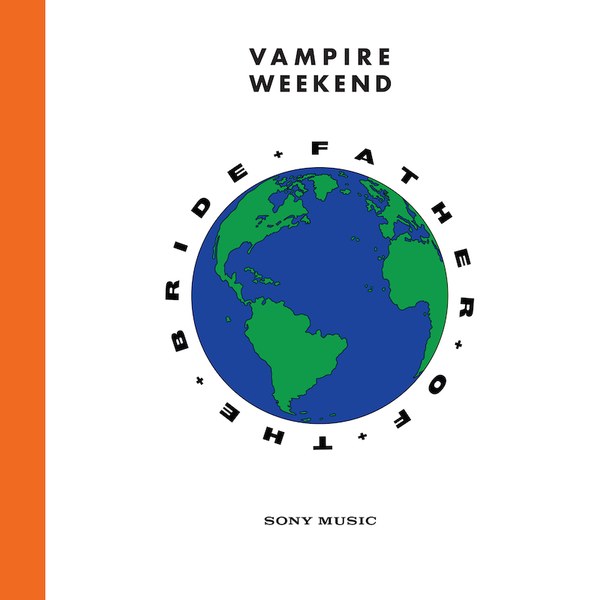 Aaron Caswell, Staff Writer
May 22, 2019
Hang on for a minute...we're trying to find some more stories you might like.
Vampire Weekend, one of the most acclaimed indie bands of all time, never fails to please when it comes to album output. Their first release, Vampire Weekend, was met with critical praise all over the world, highlighting their usage of baroque pop and world music influences riddled throughout the now-regarded masterpiece. The band released two other albums in the following years, Contra, and Modern Vampires of the City, which were all met with rave reviews. Their first in six years and fourth album overall, Father of the Bride, strengthens the pre-existing knowledge that Vampire Weekend is nothing short of genius. Clocking in at just under an hour, Father of the Bride is by far their most ambitious project to date.
Father of the Bride opens with "Hold Me Now", a song featuring a fellow acclaimed singer Danielle Haim, who appears on a few songs throughout the album. This song features allusions and references to marriage, a song very similar in style to the Rolling Stones' classic "You Can't Always Get What You Want", even going as far to having a similar choral part that's present between the verses that singer Ezra Koenig and Haim exchange. The song then glides smoothly into "Harmony Hall", the first single released from the album. "Harmony Hall" features some of the strongest guitar work Koenig has ever done since founding member, lead guitarist, and multi-instrumentalist Rostam Batmanglij left, back in 2016.
Two other singles from this album "This Life" and "Unbearably White" are placed in the early section of this 18-track album. "This Life" uses a nice sunshine and beach vibe to somewhat mask the otherwise tragic lyrics about a failed relationship, while also managing to serve as a launching pad for things to get better. "Baby, I know death probably hasn't happened yet, 'cause I don't remember living life before this. And darling, our disease is the same one as the trees, unaware that they've been living in a forest" is a perfect example of the sad and glad creating a happy medium on "This Life."
"Unbearably White" kind of plays off of the band's Ivy-League brat persona they gained when starting out, but Koenig takes this idea and molds into a whole new feeling, referring to feelings and snowfall as the "Unbearably White."
The next few songs make up the midsection of the album. One highlight, "My Mistake", is an absolutely beautiful yet heartbreaking song about the narrator, making the titular mistake that has damaged him for years. "Quick in the night, as the storm took its shape, caught at the border as I made my escape, it was cold, it was dark. You were cruel, you were fake, hoping for kindness was my greatest mistake." This song features a brilliant sax part and was co-produced and co-written by Ludwig Göransson, frequent producer, collaborator and longtime friend of Childish Gambino, and Göransson's signature production style shines through on this track. Another producer on the album, Buddy Ross, when asked in an interview about the change of sound the band experienced, said "It has really helped them grow into their own"
The final section of the album wraps things up with three songs in a triumphant and somber fashion, but with Vampire Weekend's typical wit and musical brilliance. The final song, "Jerusalem, New York, Berlin" offers a somber but introspective look into the wrong doings of the world, making references to how present anti-Semitism still is, even in Jewish home countries. "O, wicked world, just think what could have been. Jerusalem, New York, Berlin. All I do is lose but baby, all I want is to win. Jerusalem, New York, Berlin." These lines, while sad, do have a glimmer of positivity within the music that gives the listener a bit of an idea and hope that things can, and will, get better. All you have to do is try.
There are, however, a few underlying problems with the album, but none that tarnish it too much. The biggest and most important issue is that Vampire Weekend no longer feels like a four-person project, the way it was started and was for quite a few years. While the remaining two founding members are still present and playing, their contributions feel less important with all the guest musicians and artists Koenig had hired. It now feels like that of a solo project of Koenig with a backing band.
While the band may not seem like a four-person unit anymore, their sound has grown and matured. No longer are they the Cape Cod boys who worshiped
Paul Simon's Graceland, but an indie band who has made their mark and will continue to make greater marks as time goes on. This album shows a new side of Vampire Weekend, and the result is quite great.